Thanks to an amazing collaboration with Nottingham University we now have some amazing new pages relating to Spinal Rehabilitation.
Since 2012 Nottingham University has joined forces with Physiopedia to create and review pages that relate to Spinal Rehabilitation as part of a bespoke Content Development Project.  The project forms part of the first Spinal Rehabilitation module in their three-year undergraduate physiotherapy course (BSc (Hons) in Physiotherapy).  In small groups, students are encouraged to explore the evidence and produce up to date pages.  This not only gives them a platform to hone their research and technology skills but also gives them the opportunity to share their knowledge with a global Physiotherapy community.

2020 was an unusual year for Physiotherapist's worldwide as the COVID-19 pandemic spread rapidly through communities not only disrupting clinical practice but education too. Students were unable to attend lectures in person but also had their clinical placements either deferred or cancelled. Content development projects offer a different kind of learning experience and one that can fill the void left by disrupted placements and lectures.
Tailored Learning During a Pandemic
The pandemic did not deter the students from getting involved in the project in fact they took disruption in their stride and explored not only Spinal Conditions but also the impact COVID-19 on spinal rehab.  You can see the amazing pages the students involved in this pr created below or why not visit their Project Page.
Placements Powered by Physiopedia
How to Set Up A Content Development Project
If you are reading this and would like to develop your own CDP get in touch with Kim Jackson to discuss how we can help you create your own unqiue project. The process is simple and straightforward with no technical skills required.  So why not take up a new challenge, it really is quite simple and has numerous benefits when it comes to learning and teaching:
It is a great way to share and promote knowledge with peers, clinicians and future employers.  It is better than producing work that will sit in a drawer or on a shelf collecting dust
Provides a means for early-career professional publication
Can be edited and entries published without the knowledge of specialist web
You can read more about Content Development Projects here or why not grab a cup of coffee and browse through our project page.
Looking for a Different Learning Experience for Your Clinic or University?
Maybe you would like to go beyond just reading and are looking for more ways to grow you or your team's clinical knowledge.  Why not visit the Physioplus learning platform which is powered by Physiopedia. Physioplus provides everything you need to strengthen your clinical knowledge through videos, created by experts on a wide range of topics, as well as access to telerehab solutions, journal articles, podcasts, reflection templates and much more all housed in your own learning portfolio.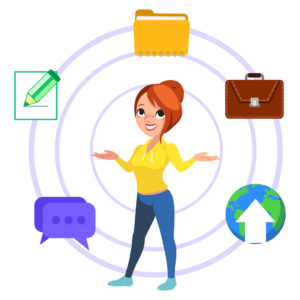 Physioplus truly is the gold standard for integration of all of the continuing education, professional development and telehealth needs for your organisation. It is setting the benchmark for what is possible in the physiotherapy IT space and you will not want to miss out on the opportunity to transform your practice. Try the free 2 week trial account now, after all who wouldn't want to be a Physioplus PRO?