For as long as clinicians have been practicing scientific journals have been touted as the link between research findings and improving clinical practice but are times changing?
An interesting editorial was published in the BJSM this week which used a survey (n=2000)  to explore what resources clinicians use to alter their clinical practice. To some the results might be somewhat of a surprise, to others it might be a confirmation of long held opinion, but clinicians don't use journals to alter their clinical practice. Instead courses and peer-to-peer learning lead to direct clinical changes.
There is an interesting question at the heart of this, have journals ever been a driver for changing clinical practice? Perhaps systematic reviews, but it is unlikely that small scale RCTs change anyone's practice. Clearly this isn't an argument to rid ourselves of small scale research as, after all, many RCTs and other types of research pool together to shift momentum overtime through systematic reviews, frameworks and policy changes. Rather the argument is for a combined approach; journals and course providers working together to form a new type of translation of research to practice.
It's not clear what form this could take and there are pro's and con's to any ideas. The risk of journals accrediting courses which align to their beliefs and audience pose risks of bias and profit above all. Plus with the rise of predatory journals it will almost certainly become a race to the bottom and every independent or private course provider will be accredited anyway making the whole accreditation process meaningless.
What the better option would be is journal providers working together with course providers to improve the ability of clinicians to appraise evidence effectively and know what good evidence looks like and then use this to change practice. This will also help clinicians understand what good courses are and aren't also with the view to change practice for the better. This is just a thought and the mechanics of how this could work are unclear at this stage.
Why Don't Articles Change Practice?
Now it is likely that there is a minority of reader who is thinking hang on, I read articles and I do use them to change my practice incrementally over time. The editorial in the BJSM and this article are not designed to discourage you. You should definitely keep doing what you're doing but the reason why you're in the minority is likely because you posses a certain type of skill set – relentless energy levels and an ability to appraise research quickly as well as access to the articles in the first place.
Fatigue & Work-Life Balance – Let's be honest the last thing most of us want to do when we get home from work is sit down and read a heap of research articles trying to find out what we could have done better with that stubborn knee pain in clinic today.
Paywalls & Accessibility – There are still too many journals which are behind paywalls which means if there is a high impact article relevant to clinical practice it's difficult to get access to it. Yes many hospitals have OpenAthens access but it's just another password and username to forget and the difficulty renewing access is timely and cumbersome.
Difficulty Appraising the Evidence  – The rise of predatory journals and misinformation and ambiguity along with sheer volume of content it is hard for busy clinicians to sift and appraise journal information.
A Few Surprises
The survey data for the 2000+ clinicians who responded is available in full and one of the surprises is the role of social media and reasing a journal article is still a more popular way of changing clincial practice than a podcast, SoMe post or YouTube video. Perhaps this is to do with the trustworthiness of the sources, quality of content or just the fact that as a profession we are still adjusting to online / virtual CPD. It would bei nteresting to see what the results would be if this survey was repeated in a few years time.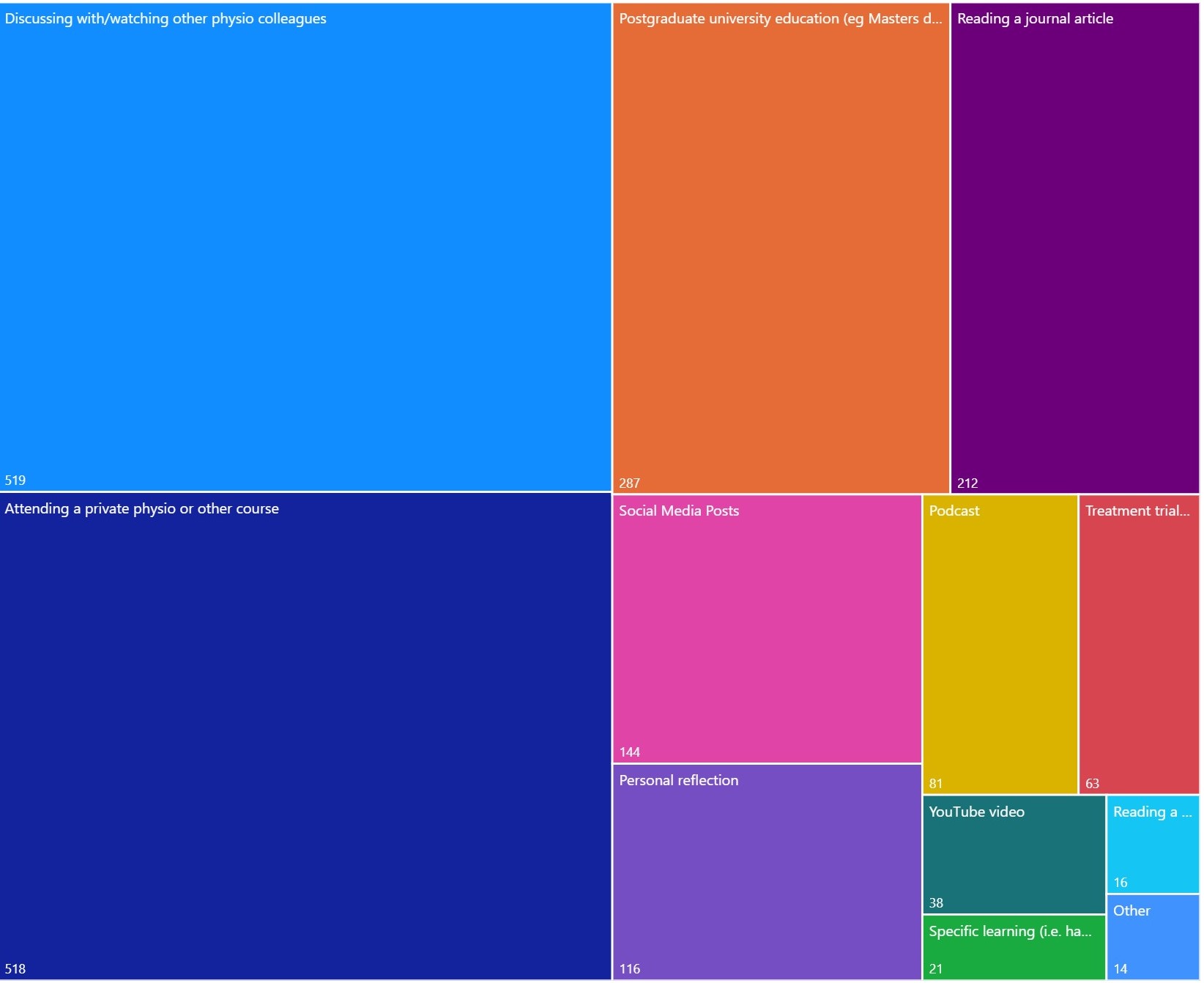 Clinical Implications
There aren't any immediate clinically important take aways from this editorial more some longer term musings. The way we are learning to improve our practice is changing. Peer to peer discussion and attending courses are the most popular ways of improving clinical practice but some questions still remain, is this specialty specific, is this unique to physiotherapists and will the covid-19 pandemic have longer term changes to the way we learn and change our practice than we currently believe. Maybe attending a course virtually will be seen as more valuable than it is now as quality and accessibility improves throughtout the pandemic.