Please join us in celebrating the Top Contributor for the month of April – Selena Horner! Selena is a dynamic team player who works primarily with the social media aspect of Physiopedia. She brings Physiopedia to life with her dedication, endless contributions and her positive attitude. Selena gives unconditionally to the knowledge users, fellow volunteer, contributors and the organization as a whole. Well done Selena, you are truly deserving of the Top Contributor honour for April 2020.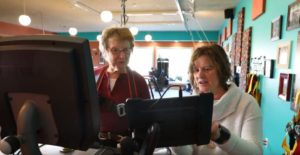 Your name: Selena Horner
Time active with Physiopedia: Since April 2015.     
Current role with Physiopedia:  Social Media Specialist. 
Where did you go to university/college? Bachelor Degree: Central Michigan University with a major in Sports Medicine and a minor in mathematics; Master Degree in Physical Therapy: Grand Valley State University.   
Where do you work? United States of America; Private Practice; board-certified clinical specialist in geriatric physical therapy by the American Board of Physical Therapy Specialties since 2003. 
Describe your role: I wear multiple hats as an owner of a private practice. My clinical role focuses on treating community-dwelling older adults. My marketing strategy targets individuals who are at risk of falling.       
What is the most rewarding part of being a physio? The best part is collaboratively working with patients and being amazed by their accomplishments: literally watching their balance improve. 
What are some of the more challenging aspects about being a physio? Choosing to do the right thing is always challenging. It takes courage to put each patient and their specific needs first. No matter what is going on in the world or what leaders may tout to be true, the challenge is to always dig, research and grasp an understanding of the situation and take the best action for each patient. Patients trust and look to us for answers in their physiotherapy care. As I write this, the world has been turned upside down by COVID-19. I am disheartened by some leaders and influencers in this profession who are choosing to elevate profit and business over the health of patients and clinicians.  
What are some of your professional passions?  Believe it or not, this profession really wasn't the one I truly desired. I love mathematics. I really, really wanted to be a biomedical engineer. I started on a path that was supposed to lead me to designing and evaluating lower extremity prostheses. Obviously that did not happen. I "settled" with this profession instead. I knew I could do it. At the time it had a decent return on investment. As I end my career, I am now finally really, really enjoying myself. Because I own my practice, I can create the environment that I want. I have a treadmill with force platforms. I suggest and beta test changes for that piece of equipment. I have video cameras running 100% of the time saving to the cloud in the event that I need to analyze movement patterns, or show the patient their performance. In May, I will have a neat piece of technology to provide me information on gait characteristics over the ground. For the first time, I will be able to accurately capture over the ground characteristics before treatment is initiated. I will be able to play with comparing treadmill force platform reports with over the ground walking. I can then use that patient specific information to drive treatment interventions and strategies to help normalize movement patterns.   
What are a few of your personal passions? I enjoy perennial gardening. I spend hours upon hours outside from May until October. I have zero talent when it comes to being an artist, yet those gardens look like a work of art. I enjoy baking and almost weekly give my husband cake, cupcakes, muffins or breads for him to take to his place of employment. Because my heart races at low intensity physical activities, I no longer do triathlons. I've switched to relay teams and love swimming my heart out for my team. I crashed mountain biking and although I really enjoy it, I am much more timid than I was a couple years ago. 
What would be your advice to a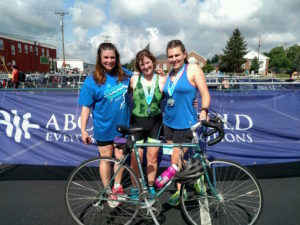 newly graduating physio? Really hone in on your people skills: listening and communicating. Growth requires feeling uncomfortable. Be prepared to change your treatment plans quickly as you learn new evidence. When you do this, you will feel uncomfortable. Be honest with those feelings and convey them to your patients. Your patients will respect you for your honesty and trust you even more. Question, critically think and self-reflect. The literature has proven that an expert physiotherapist focuses on the patient: what the patient thinks and says and truly collaborates with the patient. Strive for patient-centered care.                                                                                                                                               
Where do you see yourself in 5 years? I will be close to retiring. I'm actually excited to move on and eliminate physiotherapy from my life. Maybe open a small cafe? Maybe change over and work with my husband? I have no idea – but something where I don't have to watch the clock when I spend time with others.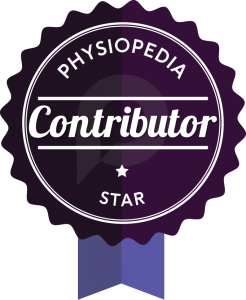 What are the best things about being a Physiopedia volunteer? I volunteer for a variety of groups in various capacities. The one thing that I love about the Physiopedia Team: stuff gets done! The team is truly a team. The team is always changing, is global (all those time zones) and yet tasks are completed in a very timely fashion. The team members don't need babysitting or prodding. Each team member truly demonstrates responsibility and accountability. The most recent example was a couple weeks ago with the COVID-19 programme of courses. Many team members dropped their plans and worked on finding resources and creating content for the course, which went live 4 days later (wow!). The Physiopedia team culture is something that would be great to bottle up and give to other volunteer organizations. 
How has being a Physiopedia volunteer helped your professional development/career progression? My role with Physiopedia really hasn't helped my career progression. It has helped with professional development. There are pages upon pages of content that my role is to share. In order to create something for social media, I try to find something within the content that is interesting to share. The goal is to have those using social media to click on the link and learn more and grow professionally.  
What are your hopes and aspirations for Physiopedia? I donate my time because I believe in the value Physiopedia brings to #globalPT. I remember the time it took for me to write my thesis. What happened to it? It sits on a shelf, undisturbed and unopened. My hope is that those in academia begin to use Physiopedia to create content as part of the physiotherapy program. The created content will not sit on a shelf. Instead, that content will serve as a resource for others across the globe. I also like how Physiopedia created a branch: Physioplus. For a minimal subscription fee, physiotherapists have access to a ton of online courses. What is fantastic about this: the courses are led by researchers across the world. I am not aware of any other resource that has this level of diversity.   
What is your favourite Physioplus course? Oh, dear… I'll just be honest. I don't do well with online courses. I can't seem to finish a course. I do horrible at conferences with a single topic. My learning style requires live interjections. I learn from questioning and whispering thoughts back and forth with someone sitting next to me. I'm also what I'd consider a patient-driven learner. My learning style is targeted and completely focused on the questions I have with my live patient load. I'm probably the only volunteer that has not completed a Physioplus course. For some reason, I don't have the attention span for formal online learning courses. (And it's not just Physioplus: every online course I have tried to take isn't a fit for me.) I will have to say, I loved the volunteer orientation course. I think the reason I liked it was because I didn't have to sit and listen a ton. I was kept busy with tasks. I am energized when I am put to a task. I feel for all the students across the globe right now who are experiencing a full immersion of online courses.      
Anything else you would like to share?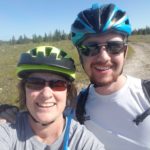 It has been both a pleasure and honor to serve on the Physiopedia team. Rachael and Tony brought their original vision to life.They didn't just stop there, their vision evolved. It amazes me the strength of the network of support that Rachael and Tony have created – across the globe. Cheers to them and so many around the globe that have either worked or given financially to support the cause of a free wiki for physiotherapists.